BrandAlley.co.uk – Members Only Shopping Site
Brand Alley is one of the leading members only shopping sites for designer fashion, beauty products and home decor. Members of this private shopping site can enjoy discounts of up to 70% off world famous brand name items. Below you can find out more about BrandAlley and how you can become a member.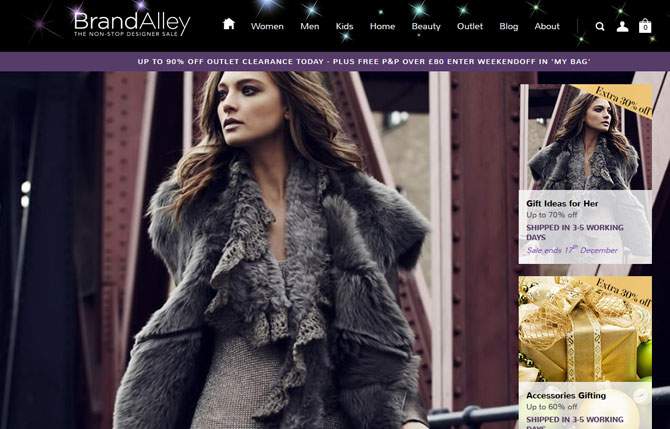 Fantastic Range Of Items
Brand Alley doesn't just feature designer fashion clothes. Members of this private shopping community also have access to deals on beauty products, home decor, children's clothing, luxury shoes and accessories. Among the items listed on the site are top brand names such as French Connection and Kurt Geiger. In total BrandAlley lists products of over 500 of the top names in fashion, beauty and home.
Free To Join
Brand Alley is 100% free to join and there is no obligation to buy once you become a member. To join BrandAlley you need to be invited by an existing member of the private shopping club. The discounts offered on Brand Alley are only available to its members. A link has been provided below which will allow you to join this exclusive private shopping community.
New Deals Each Day
The products being listed on BrandAlley are refreshed on a daily basis. There are several sales occurring throughout each day, so there are always exciting new deal offers for the members to participate in. Sales typically last between 4 to 5 days. However, popular items can sell out quickly and so it is important to put your purchase in as early as possible.
Keep Up To Date By Email
BrandAlley.co.uk offers a free email newsletter for its members. This newsletter delivers direct to your inbox upcoming and current sales that are occurring on the private shopping club. This helps you to avoid missing out when your favorite brand name products go on sale.
Follow On Your Favorite Social Network
In addition to the email newsletter, you can also keep up to date with what is happening on Brand Alley on your favorite social network. The private shopping community is active on Pinterest, Facebook, Twitter, Instagram, and Google+. In addition to keeping up with daily deals you can also reach out to the team at BrandAlley with any issues that you might be experiencing.
Refer A Friend Program
You can enjoy even bigger discounts with Brand Alley by referring friends and family members. When you refer a friend and they make a purchase, both you and your friend will receive a 10 pound discount voucher. This discount voucher can be used against the next purchase that you make through the private shopping club. Because you both receive a discount voucher when you make a referral, referring a friend is a win for both of you.
Join BrandAlley.co.uk Today
Click here to join Brand Alley and enjoy discounts of up to 70% the biggest names in fashion, home and beauty!