As the name suggests Club Luxero is dedicated to provide its members with heavily discounted prices on a wide range of luxury products. Below you can find the key advantages to becoming a member of this exclusive private shopping community.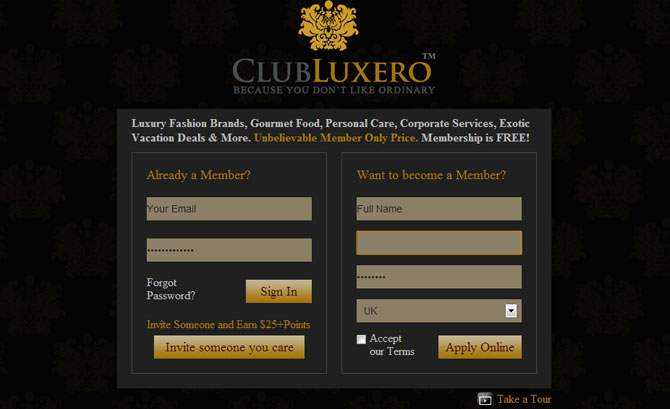 Regular Daily Sales
Sales on ClubLuxero occur every evening from 9pm. These sales last up to 48 hours. Club Luxero will also sometimes offer an exclusive preview to its members up to 12 hours before the sales start. This ensures that members don't miss out on buying their favorite luxury items at heavily discount prices.
Wide Range Of Products
ClubLuxero doesn't just sell designer fashion items inside of its private shopping site. Members of this private shopping community also get access to heavily discounted brand name furniture, wine and liquor, arts and craft and food items. No matter what you are looking for you will be able to find it inside of Club Luxero.
Exclusive To Its Members
The deals available on this private shopping site are exclusive to its members. To become a member you first need to be referred by an existing member of the private shopping community. ClubLuxero will then vet your application and potentially accept you to the members only shopping site.
Refer A Friend And Win Rewards
Club Luxero allows its members to buy luxury goods at even lower prices by referring their friends and family. When you refer a friend to the members only shopping site and they make a purchase you will receive a discount voucher of $25 or more. You can then use this discount voucher against your next purchase that you make through ClubLuxero.
Keep Up To Date
Sales at Club Luxero only last up to 48 hours and so to ensure that its members don't miss out on the great bargains they are kept up to date with an email newsletter. This email newsletter details what sales are coming up and provides an exclusive preview of the luxury items that will be listed on the private shopping site.
Available All Over The World
Many private shopping communities restrict their membership to only a single country. ClubLuxero understands that its buyers come from all over the globe. As a consequence residents in the US, the UK, Canada and India are eligible to participate in the daily deals featured on Club Luxero.
Follow ClubLuxero On Social Networks
Keeping up with the deals on Club Luxero is made even easier because the private shopping site is active on Facebook and Twitter. Follow the members only shopping site on these social networks to receive updates about sales that are coming up. You can also use Twitter and Facebook to reach out to the team at ClubLuxero.
Join Club Luxero Today
Join ClubLuxero today and enjoy huge discounts on luxury products! offline