myhabit.com – buyVIP.com
members only shopping site
huge shopping club with over 7 million registered users
you can find fashion and designer brands with huge discounts every day
as a new member you get an Amazon-MyHabit-Coupon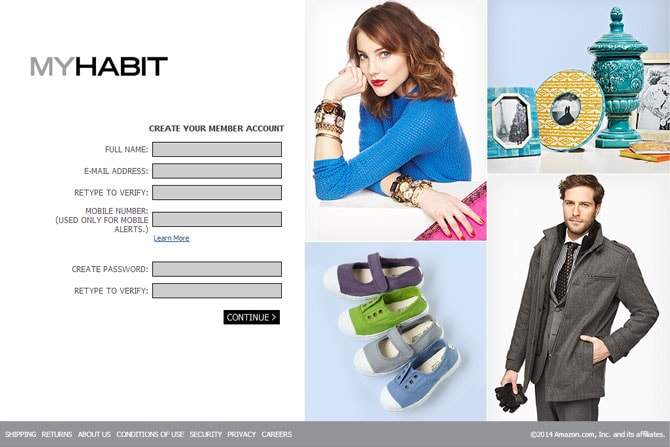 MyHabit (Amazon BuyVIP) is one of the world's largest online shopping sites. It is the Amazon's own private shopping community. As a member of Amazon MyHabit you will have access to some of the world's top brands at discounts of up to 70% off the recommended retail price. Find out some of the major benefits of becoming a member of MyHabit.com (Amazon BuyVIP).
Join One Of The Biggest Private Shopping Community's
Amazon-MyHabit (BuyVIP.com) currently has over seven million members, making it one of the biggest private shopping communities. The size of this private shopping site means that it is able to negotiate some of the best discounts on leading consumer brands.
No Obligations And Free To Join
Joining Amazon-MyHabit is absolutely free and comes with no hidden costs or membership fees. As a member of this private shopping site you are under no obligation to take up any of the great deals that are on offer.
Discounted Shipping
Not only are the products sold on Amazon-MyHabit greatly reduced, so is the shipping. When you place any order for more than $100 shipping is free. For orders that are under $100 the first item costs $6.90 Euro to ship. For every additional item added to the order the cost to shipping is 0.50 Euro.
All The Excitement Of A Flash Sale
The flash sales on Amazon-MyHabit typically take between 3 – 4 days to complete. With highly popular brand name goods it is important to place your order early as they can sell out. Once you place your order your order will typically take between 3 – 4 weeks to ship and often is much quicker than this.
Easy Return Process
You can buy with confidence when you shop through this members only shopping site. If there is any problem with your item simply follow the instructions provided in the return center section of the website. These step by step instructions will show you how to return your item for a full refund of the purchase price. This is just one of the benefits you can enjoying when you shopping with one of the largest private shopping clubs.
Earn Discount Vouchers
MyHabit/buyVip also runs a generous sponsorship program for its members. When its members refer one of their friends to the site they can earn a 10 Euro discount voucher which they can use immediately against their next purchase. This makes the already heavily discounted items inside MyHabit (Amazon BuyVIP) even more affordable. When you join MyHabit you are given the option to send an automated email to your friends in your address book. Members are also provided with a personal referral link. You can use this link on sites such as Facebook and Twitter making it even easier to earn discount vouchers. Any credit earned through the refer a friend program lasts up to six months.
offline
Join MyHabit (Amazon BuyVIP) today and take advantage of up to 70% off leading brand name goods