ShowRoomPrive.co.uk – Members Only Shopping Site
ShowRoomPrive.co.uk is the United Kingdom's most exclusive private shopping-club. Members of this members-only shopping site can choose from an extensive range of exclusive designer brands at prices of up to 70% off. Below you can find out some of the key advantages of joining ShowRoomPrive.co.uk.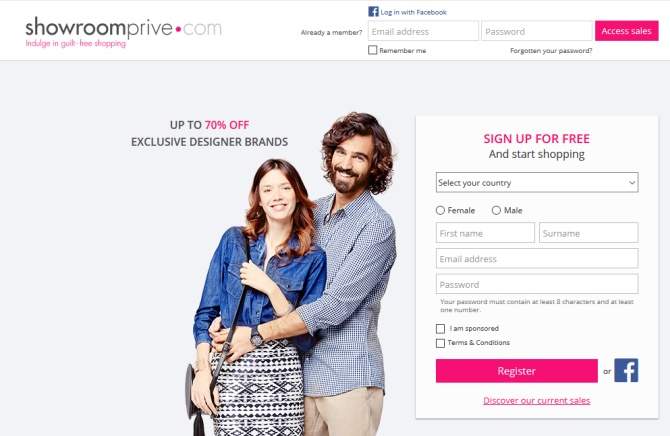 Over 1000 Brands Available
ShowRoomPrive.co.uk works with over 1000 of the top global designer fashion brands. When you are a member of ShowRoomPrive.co.uk you will have access to items from leading brands such as Diesel, Mexx, Tara Jarmon, Rip Curl, Puma, Converse, Nike, Sia, Miss Sixty, La Coq Sportif, Les Peitites, L'Occitane and many more.
All Of The Items Are New
If you have any hesitations about the fact that ShowRoomPrive.co.uk is offering all luxury designer goods at up to 70% off, don't worry! All of the products sold on ShowRoomPrive.co.uk are completely authentic and brand-new. The items are carefully vetted by ShowRoomPrive.co.uk to ensure that they are in original condition and genuine. The items come from overproduction, continued lines and unsold items. This is why you can enjoy such great discounts when you shop at ShowRoomPrive.co.uk.
Fantastic Selection
Unlike some other members-only shopping sites, ShowRoomPrive.co.uk offers more than simply designer clothes. At this private shopping club you can find great deals on fashion accessories such as sunglasses, watches and jewellery. Leather goods including wallets and handbags are also available. There is also a wide range of other products such as lingerie, toys home ware and beauty products.
Fast Delivery
Showroomprive.co.uk delivers to Great Britain, Northern Ireland and Republic of Ireland. Shop at this members only private shopping-club and you will enjoy it fast delivery for your purchases. ShowRoomPrive.co.uk dispatches all of the purchasers within 48 – 72 hours after the order is complete.
Wide Selection Of Payment Methods Available
When you shop at ShowRoomPrive.co.uk you will have access to a wide range of payment methods. Included amongst the options available are Visa, Visa electron, MasterCard and Paypal. All transactions are protected using SSL protocol.
100% Secure Shopping
When you shop at ShowRoomPrive.co.uk you can do so in the knowledge that your transaction will be completely safe. All of the transactions are facilitated by the ATOS group. ShowRoomPrive.co.uk uses encryption to ensure that the information is secure when you send it over the Internet. ShowRoomPrive.co.uk's bank Societe Generale will also verify the validity of any credit card number before it is approved.
Plan Ahead With Trailers
So that you can choose whether you want to participate in a sale ShowRoomPrive.co.uk provides you with what are called trailers. These trailers allow you to look at a sample of the items that will be offered in the sale. The trailer will also explain what the opening time and closing time will be for the sale
Receive Regular Email Updates
To ensure that you do not miss any of the great sales that are available at ShowRoomPrive.co.uk you can sign up for the free private shopping club email newsletter. When a sale is available you will receive an email inviting you to the exclusive sale. By clicking through you can enjoy sales of between 30 to 70% off.
Moneyback Guarantee
We have all had the experience of seeing something on a website that didn't look as good once we tried it on. At ShowRoomPrive.co.uk you don't have to worry however. ShowRoomPrive.co.uk provides a complete moneyback guarantee on any order that doesn't meet your expectations. You have 14 days after you receive the goods to notify ShowRoomPrive.co.uk' that you intend to return the item.
Join ShowRoomPrive.co.uk Now
Click here and join ShowRoomPrive.co.uk today and start enjoying discounts of up to 70% on the designer fashion items including clothes, accessories and jewellery.