Gilt.com – Members Only Shopping Site
Gilt is an exclusive private shopping club which provides discounts of up to 60% off of brand name products. Below you can find out more information about Gilt and how you can become a member of this private shopping community.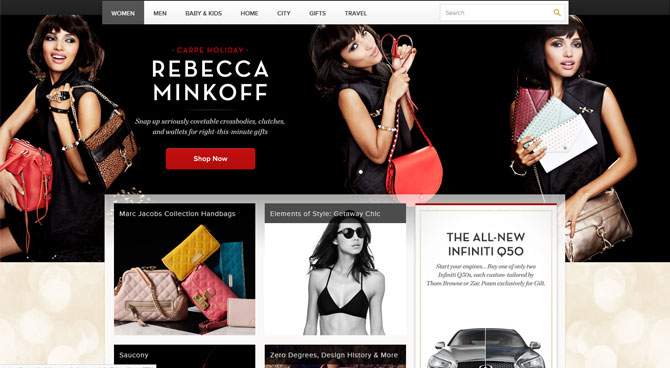 Wide Range Of Brand Name Products
Gilt features daily deals on a wide range of brand name products. Included among the products listed on the site are designer fashion, accessories, home decor, lighting, rugs, kitchen items, candles, bedding and bath.
Travel Deals
Through Gilt's exclusive relationship with travel site Jetsetter, members are able to enjoy discounts on travel and accommodation. Using the site you can book a vacation at some of the most desirable locations in the world at incredibly discounted prices.
Refer A Friend Program
When you refer a friend to Gilt and they make a purchase you both receive a $30 discount. This discount voucher can be used against any purchase that you make on Gilt. This is a great way for both you and your friend to enjoy even better bargains using Gilt.
Join The Wait List For Your Favorite Item
It can be incredibly disappointing to miss out on a sale on your favorite items. Luckily Gilt makes it easy to avoid this problem by joining the wait list for specific products. When that product comes up for sale you will be immediately notified by Gilt.
Add Up To Five Items At A Time
You can add up to five items at a time to your shopping cart as a member of this private shopping community. You then have up to ten minutes to decide whether you want to keep the item or move on to another deal. This gives you plenty of time to think through your purchase before committing to buy.
Huge Number Of Sales
Gilt is a very active members only shopping site. Each week there are over two hundred different sales on the site. This means that there are always fantastic bargains to be had and you don't have to wait too long until your favorite brand name products come onto sale. Sale starts at 12pm from Monday through to Saturday. On Wednesday and Sunday there are also sales at 9pm.
International Shipping
International customers are welcome to participate in the deals offered at Gilt. The private shopping site ships to over one hundreds countries across the globe. All international shipping is conducted through their shipping partner BorderFree.
Gift Finder Tool
Sometimes it is difficult to find the right item for your loved ones. The gift finder tool provided by Gilt makes the task much easier. Using the gift finder tool you can enter the details of the person you want to buy the gift for. The gift finder tool will then return discounted items which meet this criteria. So for example you could search for items for a woman who loves cashmere and you don't want to spend more than $50. The best thing about using the gift finder tool is that you know all of the products that it brings up will be heavily discounted.
Join Gilt Now
Click here and join Gilt today to get discounts of up to 60% off brand name items