SecretSales.com Overview
Members of SecretSales.com can enjoy discounts of up to 70% off luxury designer products. Each of the items that are featured on the site are carefully selected by the SecretSales team. SecretSales.com has been featured in some of the leading fashion magazines including Stylist, Cosmopolitan and Marie Claire. Below you can find out some of the key benefits of becoming a member of this luxury private shopping site.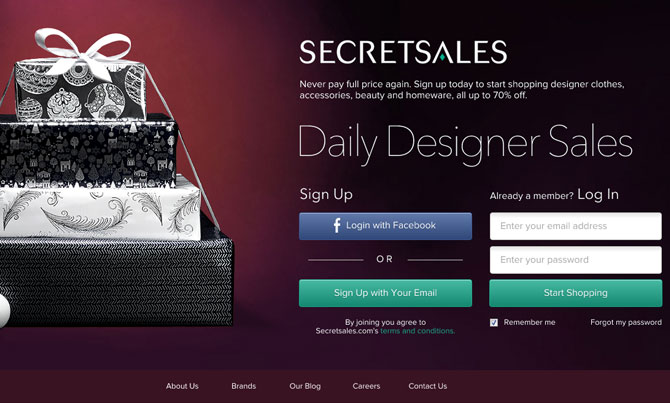 Fantastic Range Of Luxury Products
The team at this members only shopping site work with over six hundred brands to select the best deals for their members. Members of the site have access to a fantastic range of items including clothing, household items, jewellery, shoes and premium denim.
Top Luxury Brand Names
The products listed inside of this private shopping club are designed by some of the world's best known luxury brands. This includes items from Apple, American Apparel, Ben Sherman, Baby Phat, Banana Republic, CK, Clinique, Gucci, Galliano, Marc Jacobs, Porsche, Pollo, Tods and YSL.
Regular Flash Sales
Once you become a member of SecretSales.com you will have access to regular flash sales where luxury items are discounted by as much as 70%. These sales last for between two and four days. Some of the most popular items sell out quickly and so it is important to buy early if you want to ensure your purchase.
Read SecretSales Blog
To help you keep up with the world of fashion and the designers featured in this private shopping community, you can read the SecretSales.com. Here you will find gift buying ideas, fashion tips and behind the scenes looks at designer's studios and workshops.
Excellent Customer Support
If you have any issues or questions this private shopping site provides excellent customer support. You can contact the site any time from Monday to Friday between 9am – 5pm by telephone. You can also email customer service to receive help with your problem. SecretSales.com maintains their headquarters in Notting Hill and there is postal address provided. SecretSales.com is also active on a number of different social networks including Facebook and Twitter. You can use these social networks to reach out to the team at this private shopping community.
Easy Return Policy
Items that are found to be unsatisfactory can be returned for a full refund. You can return items purchased from SecretSales.com up to fourteen days after you have made your purchase. Simply contact customer service at the private shopping site to have your return processed.
Keep Up To Date
Members of the private shopping site are also given access to the SecretSales.com email newsletter. This keeps members up to date about sales that are coming up. Joining the newsletter ensures that you don't miss out on any sales from your favorite luxury brands.
Join SecretSales.com
with a £10 e-voucher
Up to 70% off Designer Clothes, Accessories, Beauty and Homeware at Secret Sales
Huge Savings with Deals of the Week at Secret Sales
Click here to become a member of SecretSales.com and get 70% off luxury designer items!