One Kings Lane Overview
OneKingsLane is curated private shopping site which features luxury designer products at discounts of up to 70% off. In addition to fantastic daily sales on new designer goods, the site also features carefully selected vintage items. Below you can discover some of the key benefits of becoming a member of One Kings Lane.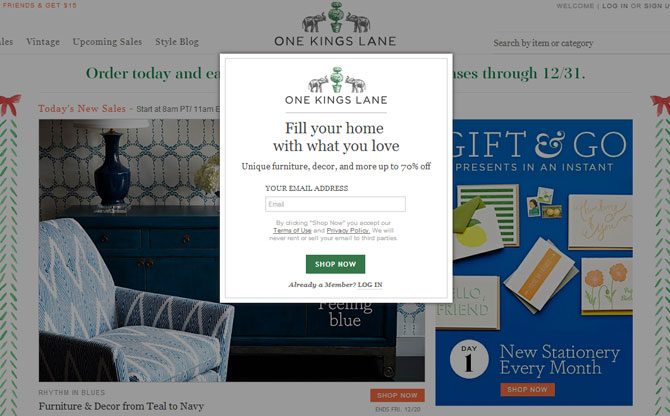 Daily Sales
Sales occur on a daily basis inside the members only shopping site. Sales begin at either 8am or 6pm each day. Sales last up to 72 hours with highly popular designer items often selling out faster.
Invite A Friend And Earn Discounts
OneKingsLane runs an invite a program which allows its members to earn discount vouchers. When you invite a friend to the private shopping community and they make a purchase you can earn a discount voucher for 15 pounds. This can be used immediately against your next purchase. You can earn as many discount vouchers as you like.
Vintage Items
In addition to designer products, this private shopping community also gives its members access to sales on carefully curated vintage goods. This includes decorative accessories, furniture and art. You can sort the items listed in this section by lowest price, available now and featured. This is a great way to purchase vintage items at fantastic prices.
Carefully Curated
Each of the items listed on the One Kings Lane is carefully curated by their in house team. Items that are featured on the site are categorized with unique titles such as Spanish Influence, Festive & Fun and Merry Metallics. This makes shopping on OneKingsLane a much more fun experience.
iPhone and iPad Apps
Just because you are on the bus, in a cab or at work doesn't mean that you have to miss out on any of the great sales at One Kings Lane. The site also provides a free shopping app for iPhone and iPad. The app also provides a zoom feature to make it easier to get a close look at items before you purchase. This app also makes it easy for you to share your fashion finds with your friends on Facebook and Twitter or using email or iMessage. You can download the OneKingsLane app through the App Store.
Gift Cards Available
Gift cards are a great present when you aren't sure what someone will want. One Kings Lane offers gift cards in any denomination from 25 – 1000 pounds. You can send a virtual gift card to anybody via email or alternatively you can download your gift card so that you can print it out and present it to the recipient personally.
Great Returns Policy
If you want to return any item that you purchase through the private shopping community it is easy to do so. Each item that is listed on the site is marked as either eligible or not eligible for returns. This means that before you purchase you will know whether or not you can return the item. Any item that is eligible for returns can be sent back up to fourteen days after being purchased.
Join OneKingsLane.com
Join One Kings Lane now and receive discounts of up to 70% off designer products